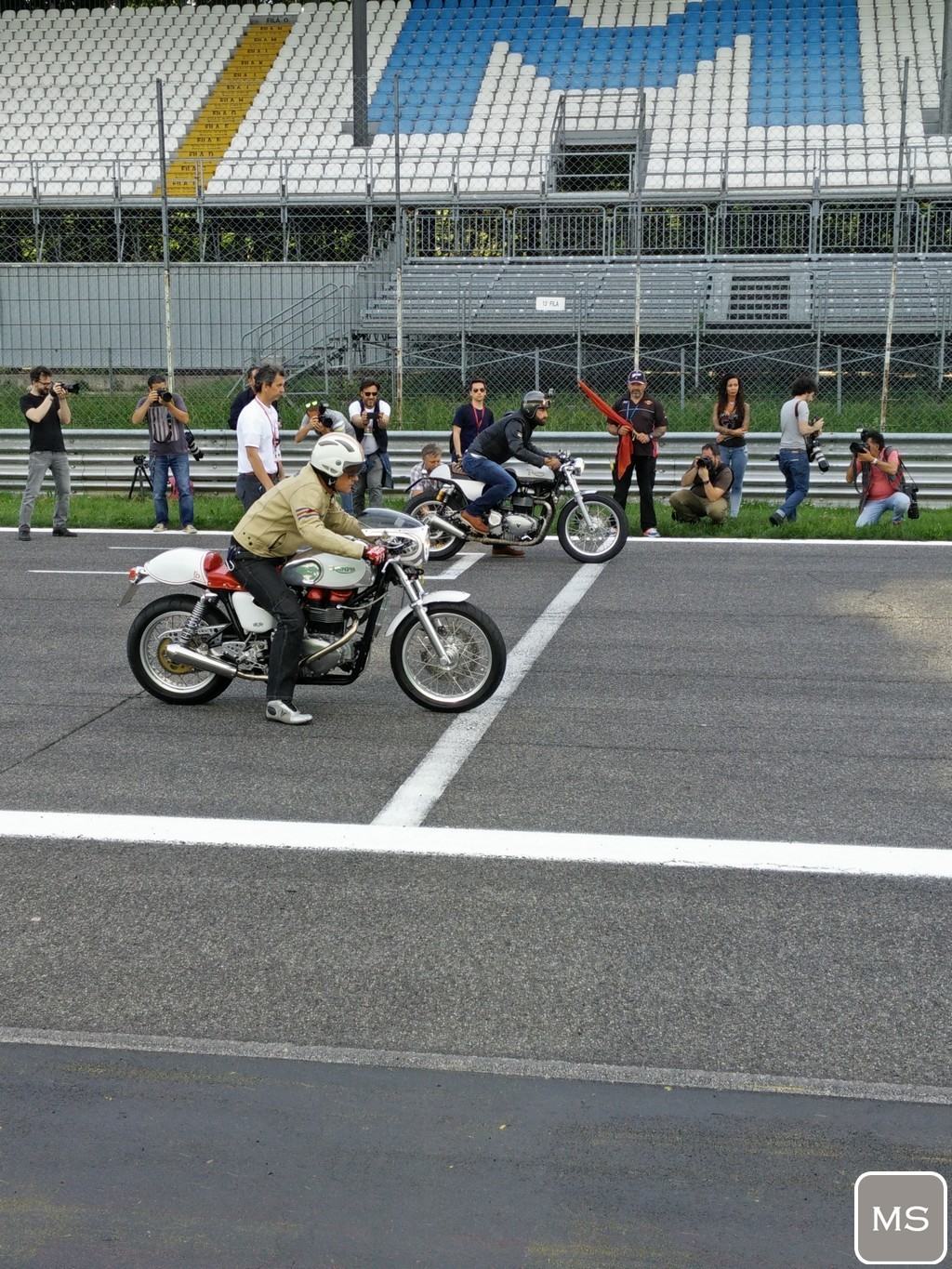 The Reunion – Felice. Felice di esserci stato e non aver perso un evento irrinunciabile per chi ama quegli oggetti straordinari con due ruote ed un motore che chiamiamo semplicemente moto. Le special, quasi come opere d'arte, trasmettono tanto dalle loro forme metalliche scolpite ad arte e vederne una spesso emoziona, pensate che colpi al cuore vederne 2500…
In due parole The Reunion è un raduno di motociclette cafè racer e classiche, pensato come incontro di chi ama le "racer" e lo spirito che sta dietro alla loro genealogia. Non è un caso che l'evento nell'evento sia la "Sprint race": gara dallo spirito rocker anglo sassone in cui si confrontano sull' ottavo di miglio splendide moto sotto i 1000 cc con raffreddamento ad aria ammesse per regolamento alla sfida.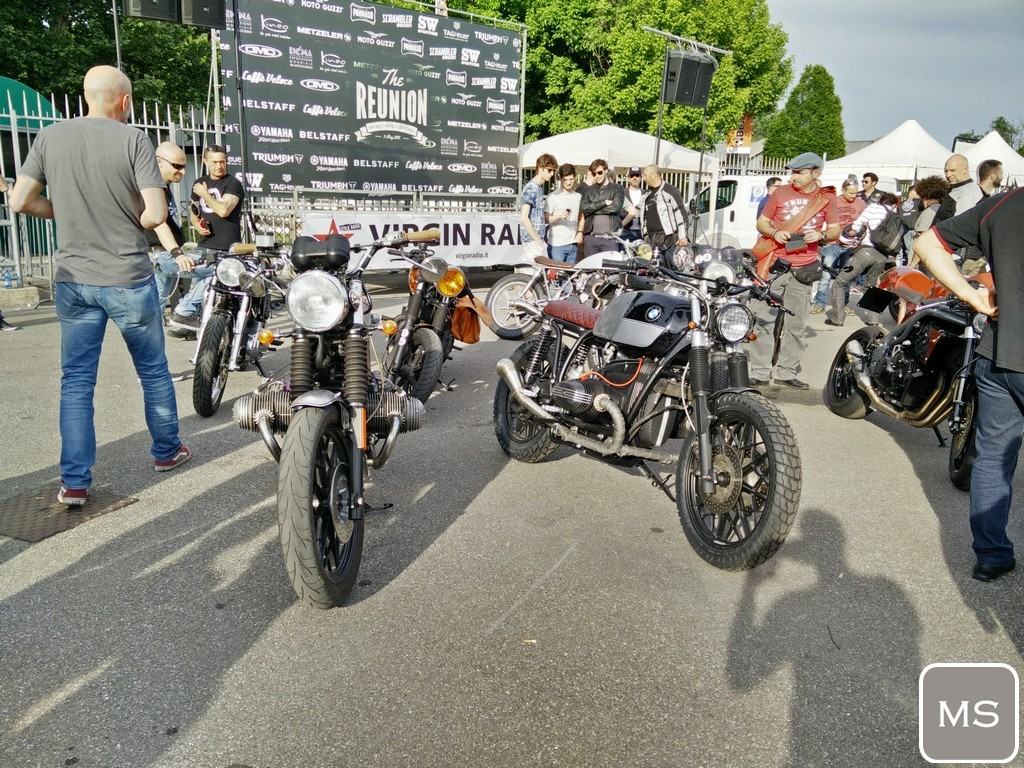 Due parole però non bastano a descrivere l'emozione di vedere una sfida sul vecchio rettifilo post-sopraelevata dell'autodromo di Monza (con i vecchi guard rail e le erbacce alte di contorno) tra una Norton Commando 750 contro una Harley 883 del 92', oppure osservare una special su base Guzzi Le Mans T5 850 dell'85 far cantare la sua aquila raffreddata ad aria per cercare di battere una più moderna ma sempre bella Triumph Bonneville degli anni 2000.
Se poi tutto ciò avviene seguendo i dettami delle gare vintage, con una ragazza che dà il via sventolando una bandiera a scacchi e i due piloti che sfrizionano e si abbassano per sfrecciare il più possibile velocemente sotto un sole quasi estivo dei primi giorni di Maggio, il risultato non può che essere spettacolare.
Ovviamente I 32 piloti partecipanti non sono, spesso, meno pittoreschi delle due ruote che cavalcano: giubbotti di pelle, caschi d'epoca, barbe e volti truci che sembrano provenire da un'altra epoca, rendono il tutto davvero suggestivo così come quando una bella "racer" romana in sella alla special su base BMW R 180/7 ha dato la paga a diversi maschietti con la sua moto viola accelerando decisa coi lunghi capelli fuori dal casco e la tuta di pelle nera stile 50′.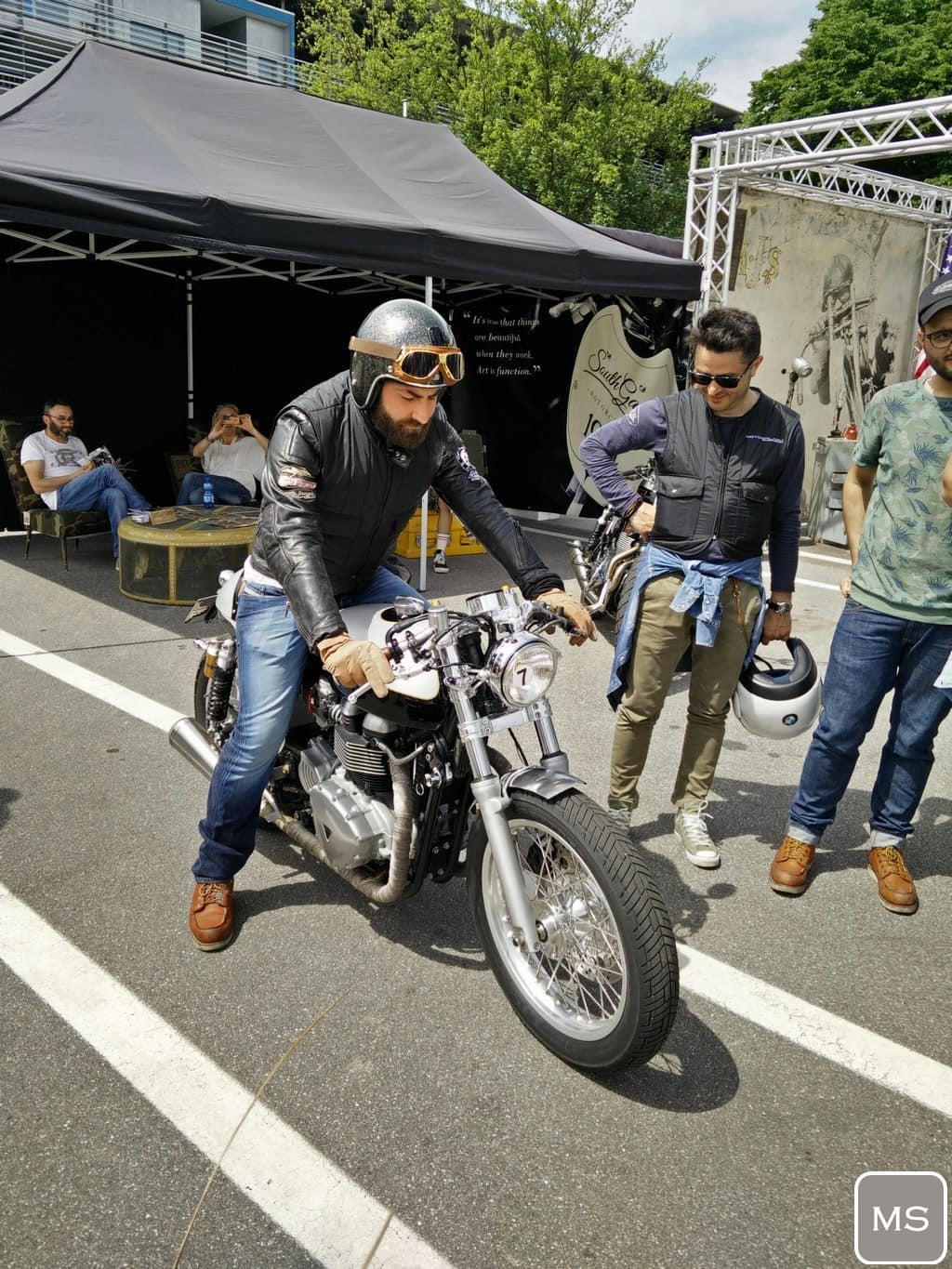 State pensando che quella delle cafè racer è solo una modo momentanea al pari delle barbe di certi hipster che le guidano? Qui la sensazione è che la passione per queste moto "vere" vada al di là della semplice moda e questi "personaggi" un po' vintage che le allestiscono e le guidano sono dei veri appassionati che vivono la moto con lo stesso forte interesse che provo io o voi, anche se poi nella vita fanno anche altro…magari il facchino come Ace face in Quadrophoenia…
La seconda manche della sfida di accelerazione si è svolta sul mitico rettifilo del circuito brianzolo ed ha selezionato moto e piloti fino alle eliminatorie per il primo e terzo posto.
Il predominio delle Triumph Thruxton recenti e ben elaborate ha un po' atterrito la concorrenza vintage ma non sono mancate, soprattutto nelle fasi finali, sfide all'ultimo metro che hanno portato il vincitore Gianluca Guantini "Rodeo" di Livorno in sella alla sua Triumph Thruxton del 2004, a festeggiare sul podio principale dell'autodromo.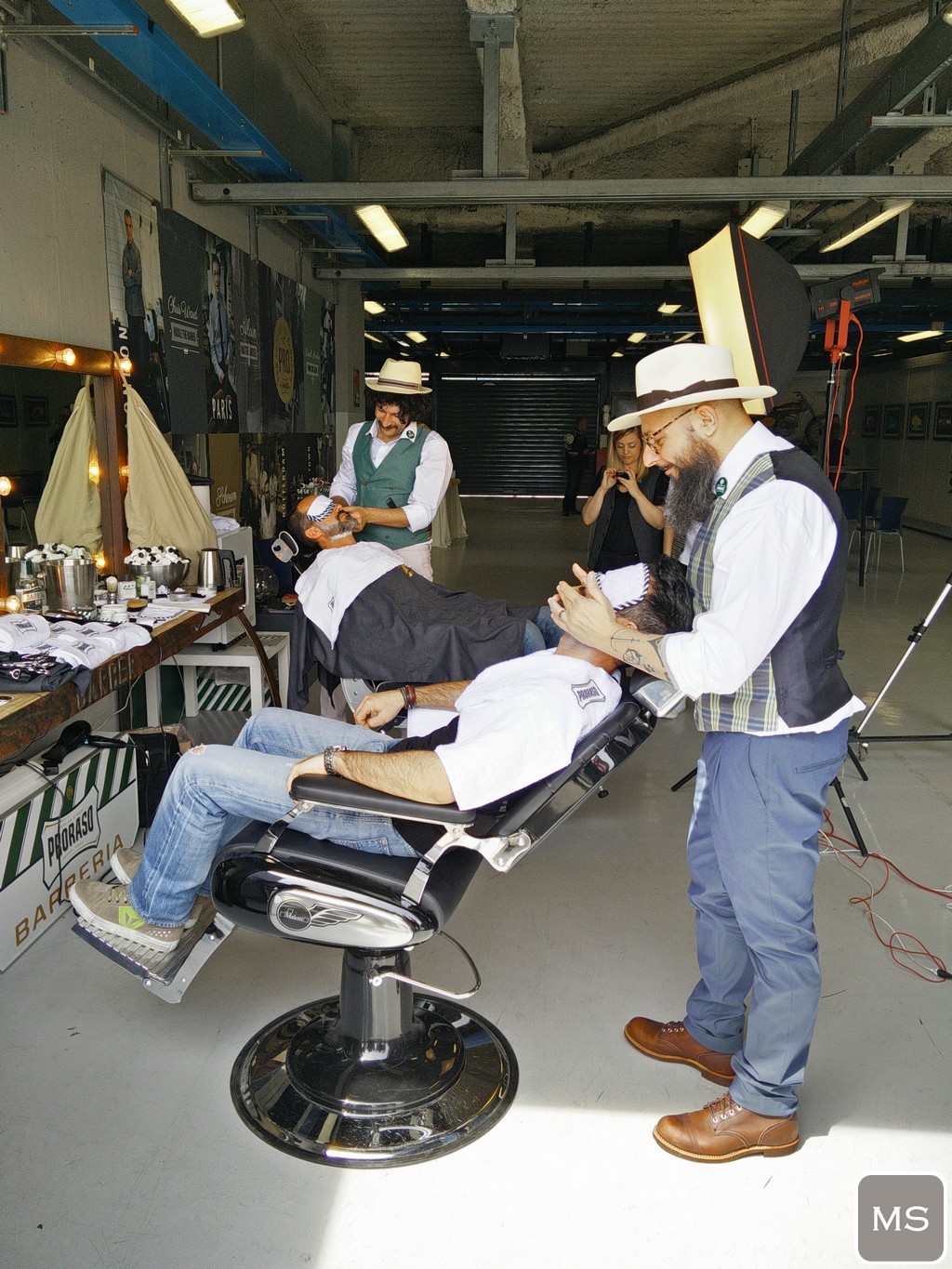 The Reunion però non è solo Sprint Race, nell'area dietro i box dell'autodromo una vera cittadella di stand è stato il luogo dove ammirare le special di assemblatori più o meno noti in un atmosfera serena e con tanta buona musica; insomma, sembra che per essere il primo anno la manifestazione promette davvero bene, per questo meritano un plauso gli organizzatori che hanno eletto le moto più belle in un contest tra una manche e l'altra della gara di accelerazione ed hanno fatto sì che The Reunion si svolgesse, senza problemi, in contemporanea con le prove libere dei piloti privati in sella alle loro supersportive.
L'anno prossimo sarà un piacere tornarci, magari in sella ad una moto pronti a sfidare qualcuno in accelerazione. La moto giusta da portare la abbiamo già in mente… e voi con che moto partecipereste alla Sprint Race 2015??