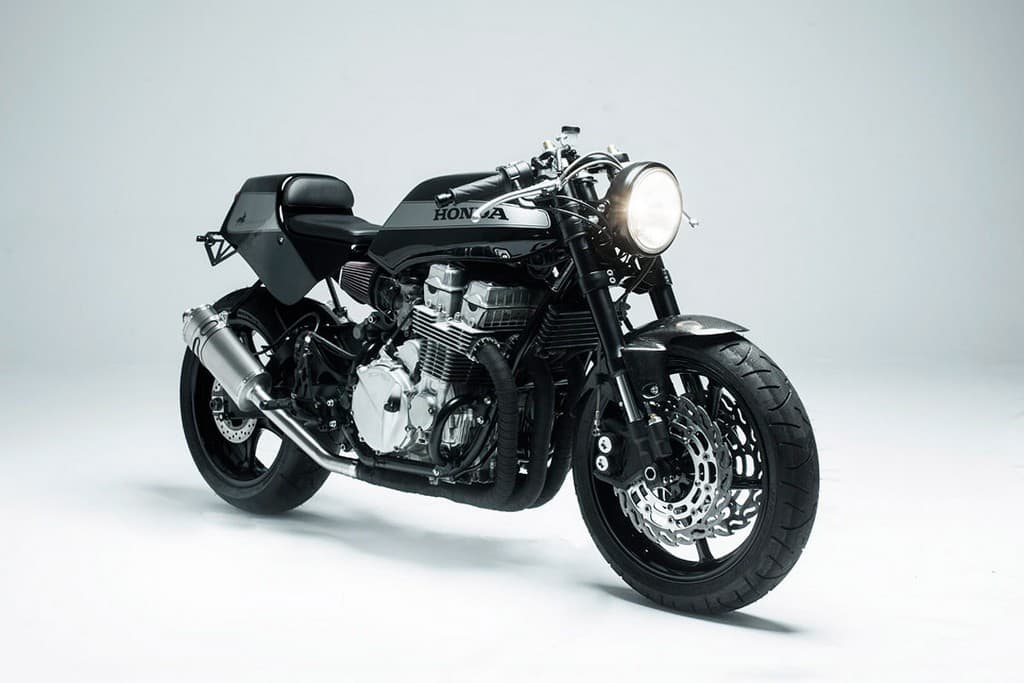 CB750 ROTM –  Chi come noi vede tante di cafè racer, pensa spesso quello che gli spagnoli di Rebellion Of The Machine hanno come filosofia di fondo: le moto speciali, cafè racer in particolare, devono essere prestazionali come lo erano le moto inglesi elaborate nei 60' da cui ne deriva il concetto di fondo. Non è raro vedere moto bellissime con motori da oltre 140 cv che però assoluatemente inguidabili ed insicure.
Non è il caso quindi della 750 Honda elaborata dai ragazzi madrileni:  Adolfo Calles, ed i fratelli Perez (ingegneri esperti di Bultaco…). Questa moto, oltre ad essere sicura e ben assettata (ha l'avantreno e il retrotreno di una R6), è anche sicura poiché i tre hanno mantenuto le geometrie identiche a quelle di serie. Adolfo ci tiene a specificare che un team di giapponesi che lavorano per un anno ad un progetto non va stravolto con leggerezza.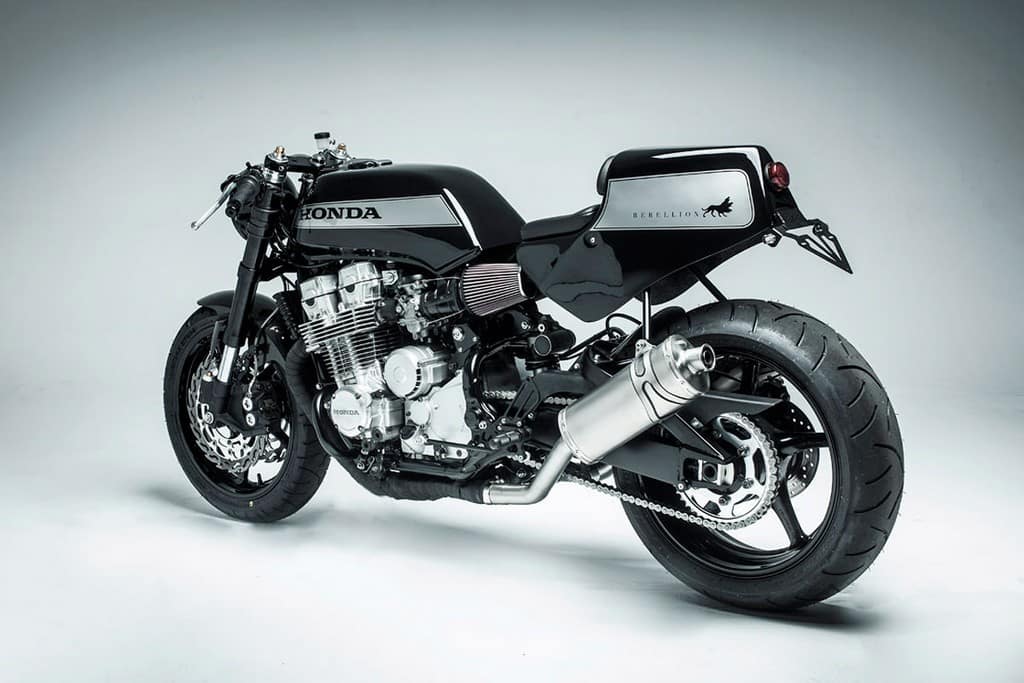 L'aspetto estetico è molto curato e fa guadagnare a questa "vecchia naked" una line a bassa e filante, grazie ai semimanubri sportivi, il serbatoio di una CB più datata e uno splendido codino di una Yamaha TZ.
La cura estetica e telaistica ha portato a risparmiare sulla bilancia ben 25 chili, a tutto vantaggio della maneggevolezza della moto.
Il motore che ha all'attivo ben 50.000 km è stato solo "rinfrescato" con due filtri aria K&N e una attenta revisione degli organi interni.
L'obiettivo di Rebellion Of The Machines è quello di proporre una moto bella sicura e prestazionale con tanto di omologazione e garanzia a vita e tutto questo, pare per una cifra intorno ai 15.00 euro.
Di sicuro una cifra importante per una moto con parti usate, comunque date le premesse di una garanzia totale e l'aspetto unico ed affascinante di una special (per altro guidabilissima)…quasi quasi andiamo a farci qualche tapas a Madrid…